Ok, if you see nothing shows up in the Export Queue, then no need to be worried. There are few certain case(s), when you will see empty export queue like below image during Auto Export mode.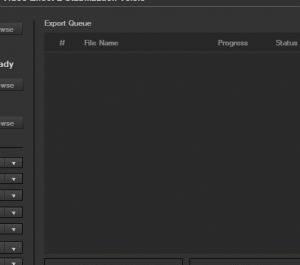 So, lets check all the case(s) which you might be missing or have forgotten to set for your event or trial.
Image per count is set according to your total number of cameras, it should be in your Timeslice Video Effect and Stabilization App Module.
Your all the cameras are connected via USB. Before diagnosis further, lets do a quick test. Follow the below steps (In the Matrix Timeslice Controller app module for camera) –

First click Disconnect All button (top left) then click Load Previous Snapshot for Camera button (top right corner).  Now please wait until it loads all the cameras. If you see there is missing camera number, then it means your camera(s) got disconnected or USB cable is loose or not properly functioning.
Double check from your camera side then try to connect it back to the port you used. See if windows can recognize and showa popup about the camera connection notification or any error.

If you are using light painting or more than 12 cameras are connected or doing slow shutter speed or USB Cable speed is slow for downloading images, then we need to adjust the live event speed value. By default, 3D bullet timeslice booth software is tuned for live event fast processing. If you are using newer version 4.0.0, then just increase the Live Event Delay value and try again. If you are using older version, then please contact us via our Email or WhatsApp if you have the contact person number. We will help you instantly as your team. Older version adjustment is little manual, but you have it with your version.
It will be updated time to time if there is any new change(s). Thanks!